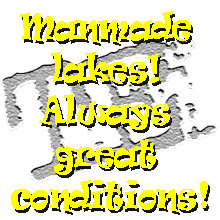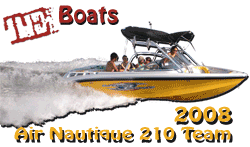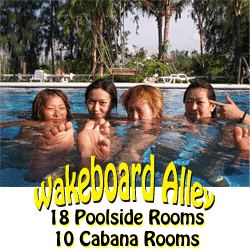 The Pines Resort
Your wakeboard and skiing home in Thailand.
TE Wake N Ski and The Pine
TE Wake N Ski has been incredibly fortunate to have such a great resort just across the street from the TE Center and being the base for some of our customers and staff. The Pines is very large featuring 4 different hotel sections and a "Moo Bahn" or group of houses.
Customers staying with us spend their days at the lake and the evening back at the resort. Transportation between the lake and the resort runs throughout the day.
The Pines features
Karaoke Bar and Restaurant (5pm - 11pm)
Coffee Shop and Restaurant (8am - 7pm)
Internet Cafe
2 Swimming Pools
Driving Range
Fitness Center
Sauna
2 Lighted Tennis Courts
7 Indoor Badminton Courts
Snooker Room
Climbing Wall - Rappelling Tower
Ropes Course
The Pines also has it's own community of business located at the entrance of the resort that has just about everything you could need while staying with TE. Just a short walk or a quick bike ride away.
Mini-Mart (4)
Local Thai Restaurants (3)
Laundry Service
Internet Gaming Cafe
Pharmacy
Hardware Store

7-Eleven
Amazon Coffee
Location, Location, Location
Located in the rice farming community of Sam Kok, the resort and area has a very relaxed atmosphere, this is not a big city!! Fortunately for those seeking more excitement, the suburbs of Bangkok are just 10 minutes away, and the madness of Bangkok's center is only 45 minutes.
Transportation by taxi is easy and available 24 hours a day.
05 min Tesco Express Sam Kok
15 min Tesco-Lotus Superstore - Prathum Thani
15 min Prathum Thani Town
25 min Future Park Ragsit - Mega Department Store, dinning, movies, bowling
30 min Chaeng Wattana Central Department Store, dinning, movies, bowling
35 min Khao San Road
35 min Thai Wake Park
45 min Bangkok City Center - Anything you can think of.
60 min Suvarnabhumi International Airport.
Don't Pay more for less!!
Rates and Prices at The Pine's with TE Wake N Ski offer a lot more for much less costs. If you are staying for more than 5 days, the weekly and monthly rates offer some great savings.
Reservations?
Let us at TE know how long you plan to stay and we will take care of all reservations at the resort. No need to contact them separately.